TOP FLIGHT offers a wide selection of vertical aerial photography services. From the single image 'spot vertical' to a geo-referenced aerial survey of a ten thousand acre tract, we have the technology and experience to provide a cost effective solution for your photography requirements.
TOP FLIGHT uses small format digital cameras mounted in a light plane to capture vertical imagery. This allows us to be very nimble and provide affordable aerial survey imagery to clients with small and medium sized properties. We routinely map properties as large as 10 to 15 square miles. We can provide georeferenced and orthorectified imagery in your choice of format, ready for use in your Geographic Information System.
The cost of your aerial mapping project depends primarily on two factors, the size of the property and the image resolution that you require. Also known as the ground sample distance (GSD), the resolution that you need can be somewhat hard to determine. Please click here for a discussion and samples of resolution choices. Visit our Site Locator to send us the dimensions and location of your site.
Aerial Survey
In an aerial survey, a series of individual photographs are stitched together to create a large composite image. Roughly 200 individual photographs were combined to create the aerial map of the Circuit of the Americas, shown below. Click anywhere on the map to see a full resolution version of the area outlined in yellow.



An aerial survey (or any other vertical aerial photograph) can be geo-referenced. This process incorporates location information into the photograph which allows it to be incorporated into a GIS (Geographic Information System). This allows other GIS datasets (like topo contour lines, roadways, population density maps, flood zones, etc.) to be overlaid accurately on your photograph.
Monitor Highway Construction Projects
Vertical aerial photography has proven to be extremely helpful to highway construction companies. We can fly miles and miles of your jobsite, capturing overlapping vertical photographs at extremely high resolution for an amazingly affordable price. Our clients typically have us do this on a monthly basis to create a complete record of the entire project over its full life.





The photograph above is a composite of six separate images. Click anywhere on it to see the full resolution.
Stockpile Measurement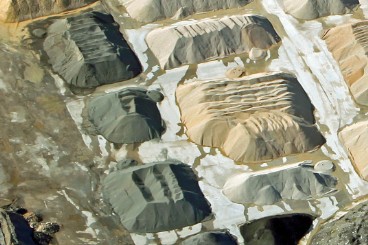 TOP FLIGHT is pleased to offer Stockpile Inventory measurement services across Texas. In cooperation with Stockpile Reports, we offer an accurate and repeatable method of measuring the volume of stored materials as well as the volume of material removed from a quarry. This service is invaluable for inventory control, bank audits, production tracking, etc.
The concept is that a large number of extremely high resolution aerial photographs are captured of your site. These are combined in software to create a 3D solid model, from which volumetric measurements can be made with high accuracy.
For more information, visit the Stockpile Reports website, or call TOP FLIGHT. To outline your property, head over to our Site Locator page.
Accident Reconstruction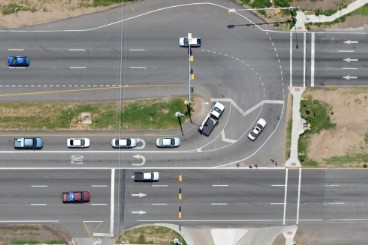 Vertical aerial photographs are an important tool for the accident reconstruction specialist. They provide an accurate and up-to-date depiction of the entire scene of interest. The camera and lenses used by TOP FLIGHT allow tremendous detail to be captured. Click on the image at the right for a full resolution closeup.