Timely, detailed, reliable and affordable photographs provide an independent record of your construction project.
TOP FLIGHT offers construction progress aerial photography packages for sites throughout Texas. We fly at the same time each month (we will move the date a day or two to get the best weather), and take exactly the photographs that you need to monitor your jobsite. We never charge extra to deliver full resolution files, so you can zoom in close to see what is happening.
Our clients depend on our photographs to clarify communications with banks, subcontractors, and everyone else involved with the project. They make a tremendous contribution to your monthly progress report and provide a great point of reference when printed large and hung on the wall in your construction trailer. The use of aerials demonstrates that you are keeping a close eye on things, and have a record of each step taken over the life of the project. If a dispute arises, you have independent photographic proof on your side.
More Details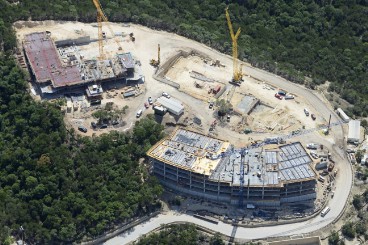 A typical construction progress agreement schedules photographs of your project once or twice a month. While we can include any number of images, many jobs include four views, one from each corner of the project (similar to the sample to the left). Some clients like to keep an eye on their project with an additional "plan view" or vertical image, like the sample to the right. Occassionally, we are asked to provide additional views such as closeups of certain work in progress; We have also been known to fly on a specified day at a specified time to capture a particular task.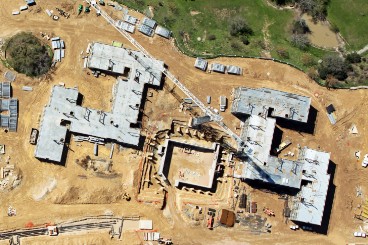 Buildings, Highways, Wetlands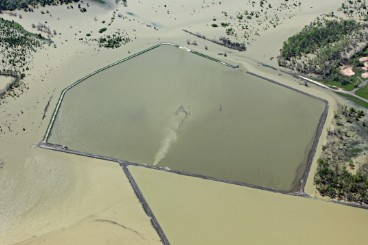 Along with commercial buildings, TOP FLIGHT monitors progress on numerous other types of construction projects: Wetland Restoration, Bridges, Homes and Roadways. Highway contractors use both vertical and oblique photographs. We are frequently asked to take a series of overlapping vertical photographs along the entire extent of a road under construction. This is a very effective technique to keep an eye on a project that would be difficult to monitor any other way. Oblique photographs work well to monitor intersections as they expose the sides of bridges and overpasses.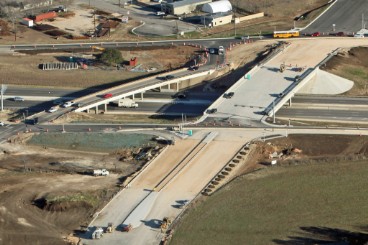 Life of a Project
A major construction project may last 12 to 18 months or longer. Because TOP FLIGHT archives every photograph we deliver, you can always come back and retrieve the record of your project from a specified timeframe. We don't charge for this – it is part of our service. We also strive to maintain a consistent viewpoint of a project throughout it's life so that you can easily locate particular features of concern.
Take a look at the adjacent slide show and let us know how we can document your project.